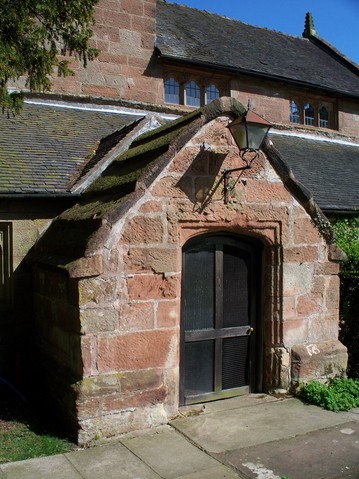 The porch is worthy of note, the roof consisting of large sandstone slabs, while the rest of the church is tiled in Staffordshire blues. The porch fits rather uneasily against the building and the roofline suggests it was not built with the church but must have been part of the earlier pre-reformation building.
The main door is original. The priest's door to the chancel on the south side has a most original lintel carved from a large block of standstone. This door is also original. Note the window to the right of the priest's door which is blocked on the inside by a large monument dated 1732. The window is glazed with mouth blown glass. When the church was built, all the windows would have been glazed with similar glass. Glass working was a thriving industry in the Bishops Wood.
John Betjeman describes St Peter's in his Collins Pocket Guide to English Parish Churches of 1968: "Stands isolated by the road opposite the big timber framed Elizabethan Hall. A little late Gothic gem of 1630. Unspoiled. All of a piece with box-pews, well-placed memorials, 14th and 15th century glass, all excellent. Unique font like a vast stoup."
Exterior
Constructed of sandstone quarried locally, the church has no pretensions to grandeur and remains in externals almost exactly as built. The church consists of tower, nave and chancel. The crenulated tower with six crocketed pinnacles has arched openings on four sides of the bell chamber. Note the two small quatrefoil windows on the south and west sides.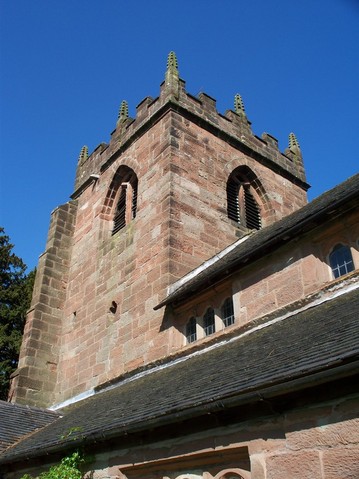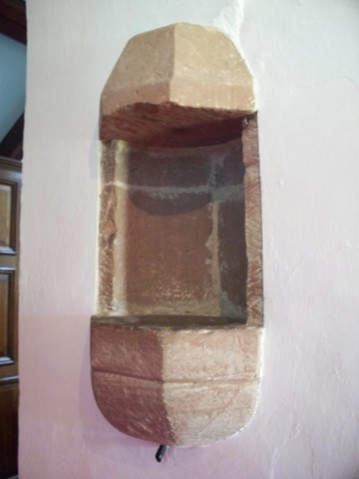 The font is a recess carved out deeply in the wall of one of the tower piers. The Reverend Vernon Yonge described it as "like a much enlarged holy water stoup with a canopy". He wondered if his suggestion that it was the original holy water stoup of the pre-Reformation building that stood on the site "would cause the learned to laugh". We do not know how much of the original building was incorporated in the present building, but it is certain that there would have been a holy water stoup there.
The Interior
​
The most striking feature of the nave is the high oak box pews. We know from the brass plaque containing the names of thirty-five local people, who had been allowed to worship at the chapel by permission of the first baronet, that they were installed sometime around 1711 and are not contemporary with the building. The long pews at the rear of the south side of the centre aisle were originally divided like those on the north side and are numbered on the south side and blank on the north. The box pews under the Hall memorial window at the west end are modern but in keeping with the older pews.